Steve Ashley - musical biography (updated 2022)
Steve Ashley has long been regarded as one of British folk's finest singer-songwriters. His reputation for writing contemporary songs inspired by the English Tradition was established in 1974 with his innovative debut album, Stroll On. Since then his songs have been recorded by many leading folk artists including Fairport Convention, Anne Briggs, Ralph McTell and Wizz Jones, Show of Hands, O'Hooley & Tidow, Dave Pegg and PJ Wright, The Arizona Smoke Review, Martin and Jessica Simpson, Grace Notes, Phil Beer, Maggie Boyle, The Bushwackers, The Owl Service, Sproatly Smith and Hannah Sanders and Liz Simmons.
He has also played a significant role in the development of British folk-rock, performing as a lead singer with the first Albion Country Band, then with his own Ragged Robin and various line-ups of The Steve Ashley Band. He has also performed occasionally with members of Fairport Convention.
BORN IN LONDON in 1946, Steve Ashley began singing traditional songs in the folk clubs of West London in 1961. In 1964 he moved to Maidstone to study Graphic Design. There with Peter Bellamy he helped to establish the successful Maidstone Folk Club. He also sang and played harmonica in the Art College blues band The Tea Set.
In September 1967 he returned to London to begin his first job as a graphic designer at The Observer. It was at this time that he began writing songs. He formed a duo with guitarist Dave Menday called Tinderbox which was managed by record producer Austin John Marshall.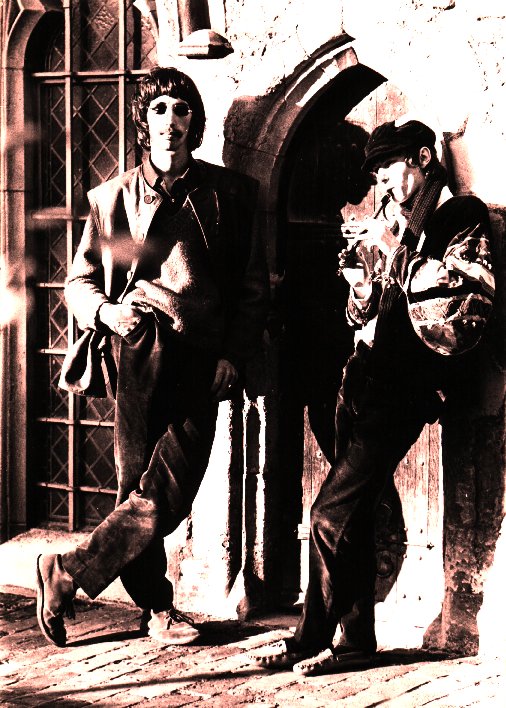 They made a single, Farewell Britannia for Polydor with Tony Reeves playing bass. The song focused on the planned removal of Britannia from the penny piece in the forthcoming decimalisation. Then, just before its release, and in response to public protest, Britannia was saved to appear on the 50 pence piece. As a result, the single was unissued and the following year Tinderbox split up. But prior to their demise, they recorded a BBC radio session with Shirley Collins for John Peel's Night Ride.
Tinderbox: Dave Menday (left) Steve Ashley (right)
IN 1969 Steve appeared on record for the first time when, at EMI's Abbey Road Studios, he sang harmony vocals on several tracks of Shirley and Dolly Collins' classic album Anthems in Eden (Harvest).
In 1971 Steve signed a publishing contract with Harbrook Music. That same year, folk singer Anne Briggs recorded his song Fire and Wine and Steve had a three-week residency on BBC's Start The Week with Richard Baker. His song The Waiting Game was used in a Labour Party election broadcast on unemployment.
In April 1972 he was invited to join what was to become the first touring Albion Country Band (sometimes known as Albion Mk 1) with ex-members of Fairport Convention (Ashley Hutchings, Simon Nicol, Dave Mattacks) and Royston Wood and Sue Draheim. The band signed to Island Records. They toured the UK and Holland but disbanded in the following November. Steve shared lead vocals with Royston Wood, performing his own songs The Spirit of Christmas and Fire and Wine, and also a 17 verse traditional ballad Lord Bateman which was recorded with this line-up after the band split and was later included in Steve's first solo album.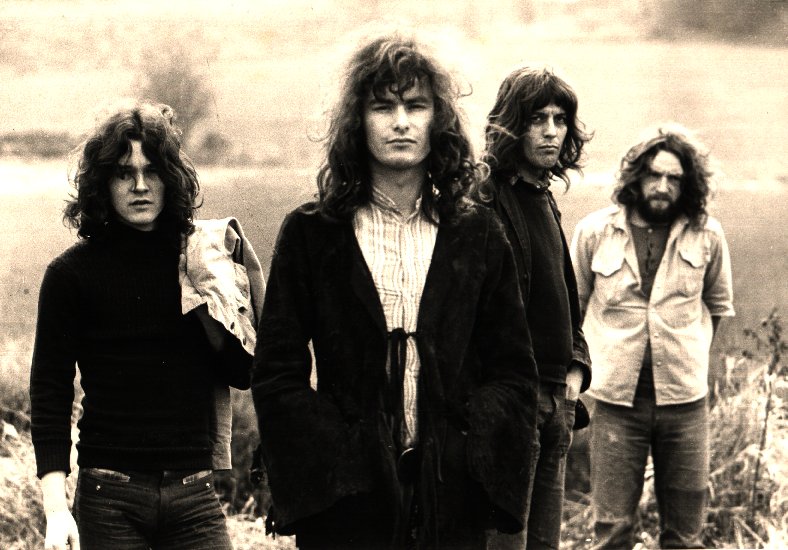 Ragged Robin (l to r: Richard Byers, Steve Ashley, Brian Diprose, John Thompson)
IN JANUARY 1973 Steve formed his own band Ragged Robin with Richard Byers, Brian Diprose and John Thompson. Ragged Robin completed a six month residency at The Howff in Primrose Hill, London and made various UK concert appearances including a performance at Cambridge Folk Festival. Later that year Anne Briggs invited Ragged Robin to record with her, six tracks of her own songs for an album for Polydor. In October of 1973 Ragged Robin disbanded.
Shortly afterwards, on Steve's initiative, a new London folk club was created at The New Merlin's Cave in King's Cross. The idea was for resident performers to try out new songs and invite friends and other artists to perform there. Co-residents with Steve were Richard Thompson, Linda Peters and Simon Nicol (Sour Grapes), Richard Byers (Ragged Robin), Robin and Barry Dransfield and Lea Nicholson. The club was named Merlin's and among the many guest artists to perform there were: Sandy Denny, Bert Lloyd, Dick Gaughan, The Etchingham Steam Band, Peter Bellamy, Royston Wood and Heather Wood, Beverley Martin and Ron Geesin. The running of the club was organised by Heather Wood and Anthea Joseph.
"...one of the finest singer-songwriters in Britain, if not the entire English-speaking world"

Karl Dallas, Melody Maker 1973
In the spring of 1974, Steve's first album, Stroll On was released on Gull Records (a DECCA subsidiary). It was produced by Austin John Marshall with string arrangements by Robert Kirby using a string section drawn from members of the London Symphony Orchestra. The album was widely acclaimed and awarded Contemporary Folk Album of the Year in Folk Review magazine. It was also recommended by the Sunday Telegraph as Folk Album of 1974.
Karl Dallas writing in Melody Maker, described Stroll On as "the most sensational album since folk became contemporary" and Ashley as "one of the finest singer-songwriters in Britain, if not the entire English-speaking world". Derek Jewell of the Sunday Times on Sounds Interesting (Radio 3) declared: "Ashley shows that there are modern masters just as fine as Rodgers and Hart and company were in their day."
During this year Steve performed at many clubs, universities and festivals and also did support tours and gigs with various bands including Supertramp, Isotope, Man, Gong, Fruup and If. By the end of the year one song excluded from from the original Stroll On, entitled The Spirit of Christmas was selected by Karl Dallas for the Island/Transaltantic compilation The Electric Muse (1975). Throughout the '70s Steve was many times ranked with Richard Thompson in the vanguard of "English folk" songwriting.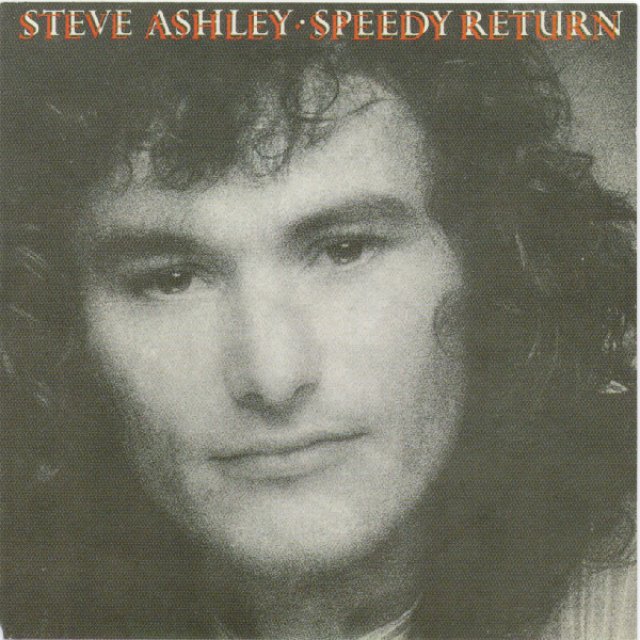 ASHLEY'S SECOND ALBUM for Gull Speedy Return (1975) was produced by Robert Kirby who also orchestrated many songs with strings and brass. In Melody Maker, Colin Irwin called the album "a flourishing confirmation of the imaginative songwriting showcased on Stroll On."
Performing solo once more, Steve toured Europe extensively and the USA and Canada in support of Stroll On. In the USA both albums were distributed and marketed by MOTOWN.
In New York in 1975, Variety Magazine reviewed his solo performance at The Other End in Greenwich Village: "Steve Ashley of London is a delightful surprise ... The performer not only sings his originals well, but has one of the funniest of dry stage raps. His voice is good. His originals are sensitive, ex of the Albion Country Band, Ashley can hold an audience."
After a solo performance at the London's Collegiate Theatre London, a live review in Sounds stated: "Quite simply, Steve is one of the best songwriters in Britain".
In 1975 Gull released a single by Steve Ashley with Fairport Convention entitled: Old Rock'n'Roll produced by Trevor Lucas and John Wood. b/w Fire and Wine. Also during that year Steve performed a nationwide support tour with Planxty and a package tour with Decameron and Dutch folk-rock band Fungus.
In 1976 in his new home town of Cheltenham Steve staged a concert at The Queens Hotel with an orchestra conducted by Robert Kirby to perform the string settings from Stroll On and Speedy Return. The backing band included Dik Cadbury, Dave Bell, Bob Critchley and Al Fenn from Decameron, plus Lea Nicholson (concertina) and Steve Knightley (mandola). Then a year later Ashley staged another large concert of songs for an album that never appeared called Rare Old Men. The same backing band was joined by Phil Beer and Paul Downes (with Steve Knightley on lead guitar) plus saxes played by Geoff March and Bimbo Acock. The Old Swan Band also played for Old Spot Morris who created a dance especially for Steve's tune A Pint of Old Timer. Around this time Old Spot Morris Men also created a dance for Steve's tune Lazy Lament which they danced regularly until their retirement.
In 1977 Steve appeared with Dave Pegg (bass), Richard Byers (guitar) and Bob Critchley (drums) on BBC TV's The People's Echo with a programme titled after his own song Old John England. Other TV appearances were The Great Western Musical Thunderbox (HTV), Calendar (Yorkshire TV) and Weekend (Southern TV). Radio concerts included Radio One's In Concert and Capital Radio's Sarah and Friends (with Lea Nicholson and members of Fairport Convention).
In 1978 The Steve Ashley Band was formed to appear at the Rotterdam Folk Festival. Afterwards Steve formed a duo with fiddle player Chris Leslie and they performed together throughout the following decade.
During the 1980s his songwriting became more political, combining social comment with more lyrical and humorous songs. He was also commissioned to write three settings of Henry Lawson poems for the Australian folk-rock band The Bushwackers.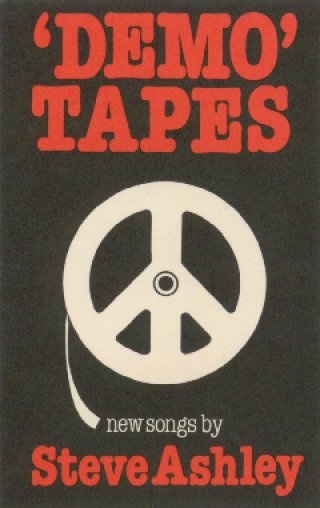 IN RESPONSE to the heightened threat of nuclear war in Europe at the start of the '80s, Steve made two anti-nuclear albums on cassette only for the UK Peace Movement under the title Demo Tapes . The first, in 1981, was recorded by Dave Pegg with various members of Fairport Convention. The second More Demo Tapes (1983) was produced by Dik Cadbury and Fairport's drummer, Bruce Rowland .
Steve also released a single, Down the Pub (1981) in five languages for the European market on Papagayo Records. An English version was produced by Alan O'Duffy and released on Dovetale Records with Lord Noel Baker and Bruce Kent on the 'B' side. He performed the song unaccompanied in Hyde Park to 250,000 anti-nuclear demonstrators at a CND rally in the same year.
Steve was also personally active in the campaign and took part in the non-violent direct action blockade Burghfield and in 1983, in a mass 'sit-down' prior to the General Election, he was arrested for obstruction at Upper Heyford USAF base in Oxfordshire. These events were recorded later in his song "Sweet Affinity"on the album Mysterious Ways.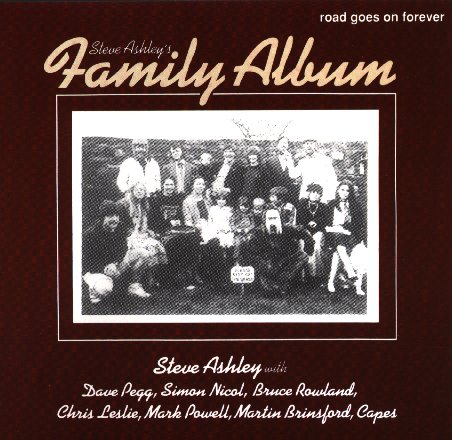 HIS FIFTH ALBUM Steve Ashley's Family Album was co-produced by Dave Pegg for Woodworm Records in 1982 and featured members of Fairport Convention (re-released in 1991 on The Road Goes on Forever). The musicians - Dave Pegg, Simon Nicol, Bruce Rowland, Chris Leslie and Martin Brinsford also performed with Steve in The Steve Ashley Family Show at various venues. The Family Album was extremely well-received in the folk music press. Karl Dallas singled out The Rough With The Smooth as "superlative" and "his best song since Fire and Wine" and Colin Irwin stated that "The Rough With The Smooth and Once in a While are two of the best songs Ashley's ever written."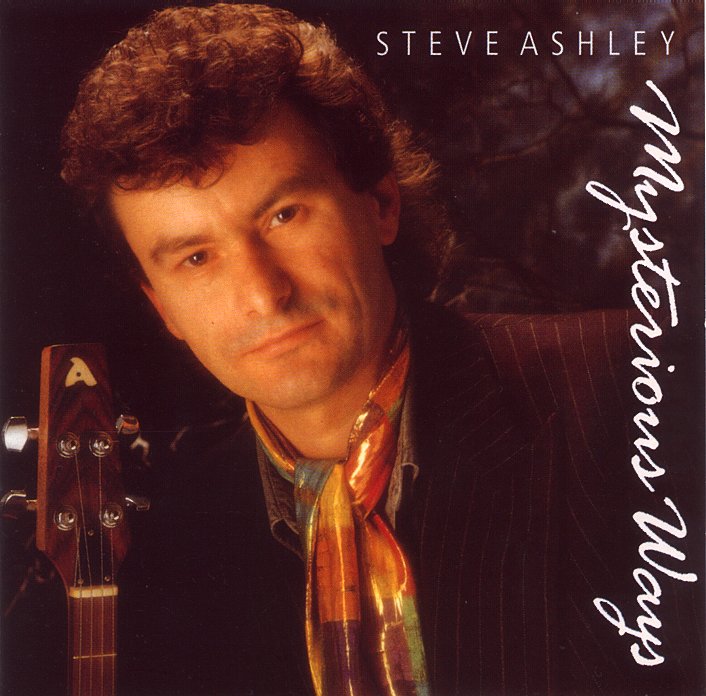 IN 1990, HIS SIXTH ALBUM Mysterious Ways was released on Lighthouse Records featuring the Steve Ashley Band (Chris Leslie, Dik Cadbury, Al Fenn, Alleyn Menzies, Steve Harper, Jim Sallis, Ian Munday and Lawrence Wright). The band has toured the UK and played the major festivals at Cropredy, Cambridge and Glastonbury.
In a review in UK's Q Magazine, Andrew Vaughan called Mysterious Ways, "a thumping example of contemporary folk-rock." "Ashley" he said, "has proved himself a more than able songsmith and given the rootsy folk-rock world plenty to think about." And Colin Irwin in Folk Roots magazine observed that: "Ashley's freshness and vigour are constants."
He continued to perform occasional solo tours in Europe, including Germany, Belgium, Holland and Italy. Both Gull albums were reissued in 1990 by Line Records in Germany.
As a mouthorgan player, Steve has recorded sessions for Plainsong, Marc Ellington, Richard Thompson, Ashley Hutchings and Mike D'Abo. He has performed his songs live with various musicians including Fairport Convention and John Williams.
In 1991 Steve wrote the music for Roger Deakin's Anglia TV documentary about allotments called The Ballad of the Ten Rod Plot. The theme tune Down by the old Embankment was issued on a compilation album for Hokey Pokey called All Through The Year.
In 1992 Steve retired from live perfomance and recording, although in 1995 he composed and recorded the instrumental music for a second Roger Deakin documentary about horse racing called Stable Lads.
In the summer of 1996 The Electric Muse was reissued in the UK by Essential Records and in Australia, The Bushwackers included Past Carin' in their Jubilee anniversary album with Shanley Dell on lead vocal. In November of the same year, the Anne Briggs album, Sing a Song For You recorded in 1973 with Ragged Robin, was finally issued on CD by Fledg'ling.
IN APRIL 1999 MARKET SQUARE released a 17-track retrospective compilation The Test of Time featuring songs from all six solo albums plus Down by the Old Embankment and a new song Over There in Paradise . In fROOTS Colin Irwin stated 'Over There in Paradise' ranks among the strongest tracks and reaffirms that we are not awash with sufficient telling songwriters to allow this man's work to be forgotten." and Rock 'n' Reel described the album as "an excellent introduction..."
"... it's up there with Liege and Lief, the first Steeleye Album and Christy Moore's Prosperous ..."

Colin Harper, Mojo 1999
THE JUNE '99 ISSUE OF MOJO welcomed the imminent release of Stroll On - Revisited with a review from Colin Harper who stated: "The passing of time has confirmed two things about Steve Ashley's debut. First, it's up there with Liege and Lief, the first Steeleye Album and Christy Moore's Prosperous and suchlike, a masterpiece of its kind. Second, it is still a best-kept-secret. A beautiful, rich and deeply atmospheric collection of songs, very English - like a musical impression of Dickens, Victorian Christmas cards and Thomas Hardy's Wessex..." The album was also well received by fROOTS, Rock 'n' Reel, Record Collector and the US magazine, Dirty Linen.
In August '99 Steve joined Fairport on stage at their pre-Cropredy gig at Banbury Arts Centre and also during their Saturday night Festival performance to sing Fire and Wine A few months later Steve returned to live performances in clubs and arts centres with the former Decameron and Magna Carta guitarist, Al Fenn.
In October '99, Steve's song Over There in Paradise, which he dedicated to the memory of Peter Bellamy on The Test of Time, was included in the CD Rom for Free Reed's memorial celebration of Peter's life and career, Wake the Vaulted Echoes.
In 2000 he was also asked to contribute a cover version of a Bert Jansch song for inclusion in a Jansch tribute album People on The Highway. As a result, Steve created a string arrangement for It Don't Bother Me, - the title track from Jansch's Transatlantic album of 1965 - and recorded the song with a string quartet comprised of Fairport's Chris Leslie, Paul Burgess and Emily Weir ('Weir Burgess') and former Decameron cellist Geoff March.
In November, MOJO featured Stroll On as the 'Buried Treasure' album of the month, coinciding with a US release for Stroll On Revisited.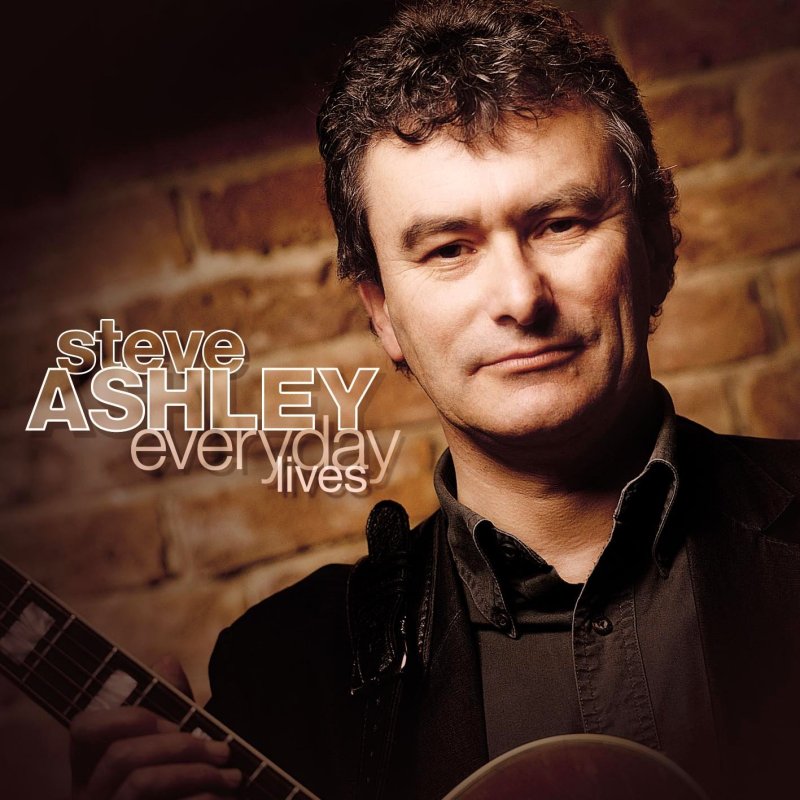 STEVE'S SEVENTH ALBUM, EVERYDAY LIVES was released in April 2001on Topic Records. In Mojo, Colin Harper declared "Ashley has clearly relished this opportunity to deliver at last the follow-up that Stroll On always demanded." and "the immediate classic is Say Goodbye ..." Colin Irwin in fROOTS observed, "If British singer-songwriterdom is to enjoy a renaissance - and it's high time it did - it's right and proper Steve Ashley should be at the forefront ... he seems to have lost none of his way with an alluring tune and deft lyric." And Rob Beattie in a four-star review in Q Magazine said: "Just as his contemporary John Tams blind-sided fans last year, Ashley does the same here" he nominated Gog & Magog as the album's standout track.
At Cropredy in August 2001, Steve made his fifth appearance at Fairport's annual festival. A special line-up of Steve Ashley and Friends, featuring Chris Leslie, Maartin Allcock and Al Fenn, performed a selection of songs from Stroll On, The Family Album and Everyday Lives.
In April 2002, Topic Records included Once In A While from The Family Album in its four CD compilation, The Acoustic Folk Box. In December Fledg'ling released Within Sound - a 4CD boxed set by Shirley Collins which contained a previously unreleased duet between Shirley and Steve called Honour Bright.
In February 2003, Family Love from The Family Album was included in a Pickwick compilation Along The Pilgrim's Way.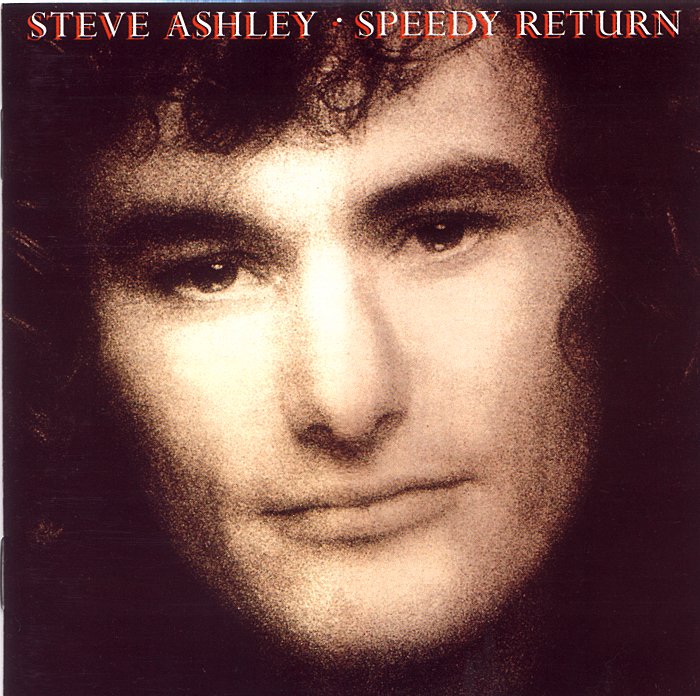 IN AUGUST, Market Square released a remastered Speedy Return with a reappraisal by Karl Dallas. "Sounding fresher than ever and lovingly wrapped in Robert Kirby's warm beguiling orchestration," said Clive Pownceby on the BBC Website, "this observant, incisive album's return is a welcome one. A gem" And fROOTS hailed it as "True English roots rock."
In October 2004 Highpoint included Steve's 'Down Among The Hop Poles' in their compilation 'The English Collection - a definitive collection of classic English folk music'. In December, RECORD COLLECTOR included Stroll On among 20 Collectable Folk-rock Classics.
January 2005 saw the release of The Wildlife Album on Market Square which included an edited version of Steve's apples and orchard ellegy 'Say Goodbye' from Everyday Lives, along with contributions from various artists, with profits from sales supporting projects for WWF and the Ulster Wildlife Trust.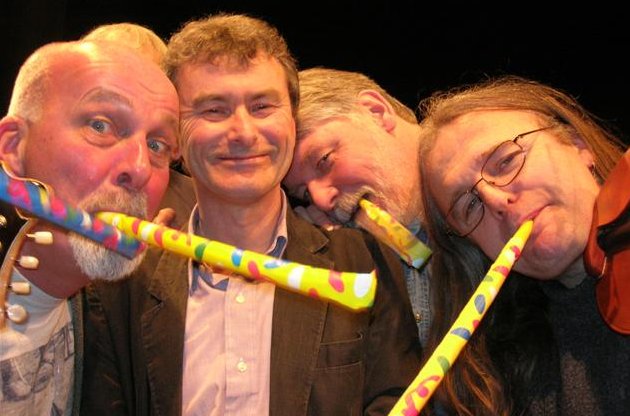 On March 12 2006 Steve celebrated his 60th Birthday with a special concert at The Bacon Theatre in Cheltenham. Featuring Fairport's Chris Leslie, Simon Nicol and Dave Pegg, plus an orchestra conducted by Robert Kirby (including Maartin Allcock on bass and Mat Le Mare on tabla), the concert also featured re-formations of Ragged Robin (with Richard Byers and Brian Diprose), Steve Ashley Band (Chris Leslie, Dik Cadbury, Al Fenn, Steve Harper, Jim Sallis and Alleyn Menzies) and - for the first time in public for 40 years - The Tinderbox (with Dave Menday). Other guests included Johnny Moynihan, Phil Beer, Paul Downes, Martin Brinsford and Paul Burgess (in a recorder consort with Sue and Emily Weir) plus surprise guests, Dave Bell and Ken Langsbury.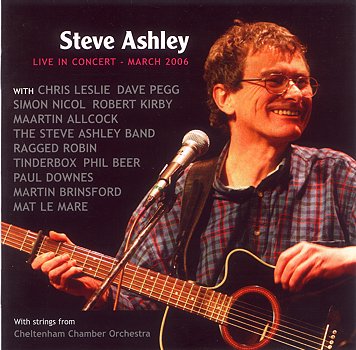 OCTOBER 2006 saw the release of Steve's first ever live album on Dusk Fire Records. With 15 tracks from 24 performed at his Sixtieth, Live In Concert features the orchestra and all the bands that took part. The album also includes a new song, 'Ships of Shame' plus the premier of Robert Kirby's string arrangement for 'Say Goodbye'. Free Reed Records also included 'The Spirit of Christmas' and 'Fire and Wine' on their 4 CD Christmas anthology MidWinter. In November Steve began work on a second album for Topic Records and Mojo included Stroll On in its list of 50 'genre-bending Beyond Folk' classics.
In February 2007 Fairport Convention released their 40th Anniversary album Sense of Occasion wih a cover version of Steve's song 'Best Wishes' as the album's closing track. Fairport also performed the song as an encore throughout their UK Winter Tour. Dave Pegg and PJ Wright included a cover of 'Lonely Are The Journeymen' on their album Galileo's Apology.
"... a modern-day masterpiece"

David Kidman, fROOTS 2007

"... sturdy melodies are matched with a rare blend of emotion and anger. Ashley may not be prolific but his songs are worth the wait."

Robin Denselow, The Guardian 2007
JULY SAW THE RELEASE OF STEVE'S NINTH SOLO ALBUM TIME AND TIDE on Topic Records. The album includes 15 originals and featured three new string arrangements by Robert Kirby with sessions from Dave Pegg, Chris Leslie, Simon Nicol, Robin Williamson, Dik Cadbury, Paul Manning, Tommy Scott, John Wilshaw and Steve Trigg. Photography is by David Angel. The album was well received in The Guardian, fROOTS and Q Magazine and in August Living Tradition carried a 4-page overview of Steve's career.
At Fairport Convention's Forty-Year celebration at Cropredy, Steve joined Fairport onstage for two encores: his own 'Best Wishes' and 'Meet on the Ledge'. Dave Pegg's Box Set A Box of Peggs (Matty Grooves) includes 'Once In a While' from The Family Album and 'Family Love' from Live in Concert. In November Steve appeared at Harvey Brough's Anniversary Concert at London's Union Chapel with a premier performance of Harvey's quartet arrangement of Steve's song 'The Rough With The Smooth'.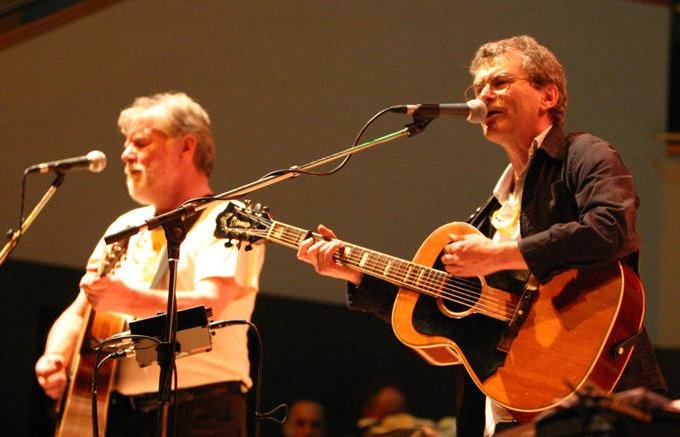 This was followed a few days later by Steve's appearance at Dave Pegg's Sixtieth at Birmingham Town Hall where he performed 'Feelin' Lazy' and 'Best Wishes' accompanied by Fairport Convention.

In February 2009 Steve commemorated 40 years of recording with a headline concert at Cheltenham Folk Festival. For this special concert he was accompanied by Robert Kirby conducting Staccato Strings in a selection of his string arrangements from Steve's albums. Also taking part were Dave Menday, Richard Byers and Al Fenn.

In a release timed to coincide with their winter tour, Fairport Convention closed their latest album, Live at Cropredy '08 with a live version of 'Best Wishes', and in the summer Steve contributed a live version of 'This Old English Town' to a charity album for the Hebden Bridge Trades Club, Trades Roots Live. In Australia, Dobe Newton covered 'Past Carin' on his album A Convict Can't be Trusted and in September, Topic Records included Steve's 'Ships of Shame' in their seven CD boxed set, Three Score and Ten.

Steve's friend Robert Kirby died suddenly in October 2009 during heart surgery, and one year later, his son Henry staged The Robert Kirby Memorial Concert at London's Cecil Sharp House. With a string section conducted by Harvey Brough, various artists performed songs which showcased many of Robert's arrangements. To mark the occasion, Steve and Danny Thompson performed on stage together for the first time the apple orchard song,'Say Goodbye', and Robert's arrangement from Steve's 60th Concert was performed once more. Following this, Steve sang 'Lands End' from Time and Tide. Other performances were from Paul Weller, Teddy Thompson, Vashti Bunyan, Ben and Jason, Harvey Brough, Clara Sanabras, Luke Jackson and Fab Cab. A few weeks later, The Guardian included 'Say Goodbye' in its F&M Playlist.

In December, St Agnes Fountain included a cover version of Steve's 'Spirit of Christmas' as the title track of their latest album.

In May 2011 'Spirit of Christmas' was included in Dave Thompson's book 1,000 Songs That Rock Your World and Steve was also invited to list his five favourite rock songs in the chapter Steve Ashley's Top Five. In December 'Spirit of Christmas' was also included in the album, The Best of St Agnes Fountain.

For releases in the spring of 2012 Grace Notes recorded Steve's 'There Will Be Pain' for the album 20, and Maggie Boyle and Paul Downes recorded a version of 'Once in a While' for Maggie's album, Won't You Come Away. Other song covers included 'Candlemas Carol' by Sproatly Smith on the album Carols From Hereford, 'Fire and Wine' by Green Diesel on their debut album Now Is The Time and two new Australian versions of Past Carin', first from Suzette Herft on the album Both Sides Now and then from Christine Wheeler on her album Rain In The Mountains: Songs of Henry Lawson.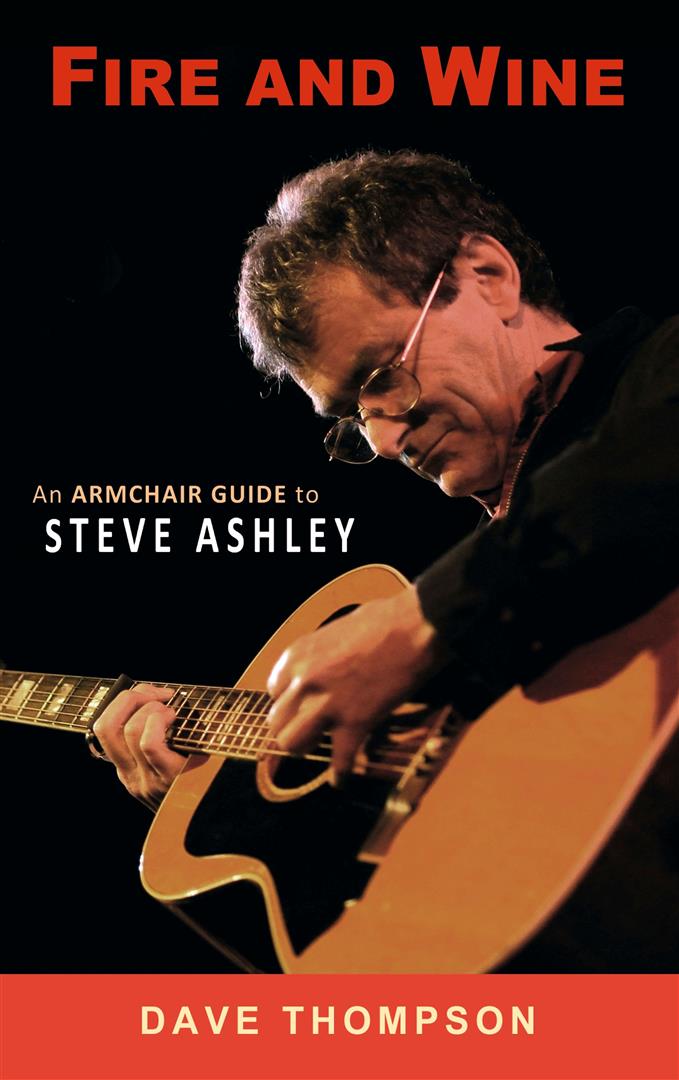 August 2013 saw the publication of the first musical biography of Steve's career: 'FIRE AND WINE An ARMCHAIR GUIDE to STEVE ASHLEY'. Written by the prolific rock author, Dave Thompson, with contributions from many old friends and associates, the book traces Steve's fifty-year musical history, with a selection of rare photographs and a comprehensive catalogue of songs, releases and session musicians, from 'Farewell Britannia' through to 'Time and Tide'and beyond. The book was also made available in Kindle and Nook formats.
Song covers in 2013 included Hannah Sanders and Liz Simmons' version of 'Fire and Wine' on their EP World Begun, The Owl Service's take on 'Spirit of Christmas' on their expanded version of their album The Burn Comes Down, and in November 2014 Phil Beer's version of 'Fire and Wine' on his live album Plays Guitar and Fiddle. Sings a Bit.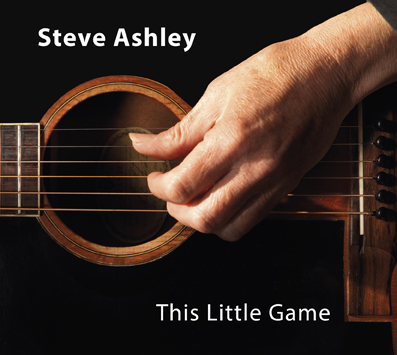 FEBRUARY 2015 SAW THE RELEASE OF STEVE'S TENTH SOLO ALBUM, THIS LITTLE GAME on Market Square. The album includes 12 Ashley originals. Recorded by Tommy Scott and Martin Mitchell with studio photography by John Ash, This Little Game is Steve's first stripped-back solo album, featuring just vocal and guitar. It was warmly received in the folk media with many good reviews, including two five star reviews. In May, the song The Last Deeds of Love was Song Of The Day on the Folk Radio site and in August the album was listed in the The Telegraph's The Best Folk Albums of 2015. In September, the song That's Why was the Anti-War Song of the Week on the Stop The War Coalition website, with a specially compiled video by Stop the War Coalition. In January 2016 the album was listed in Folk Radio's list of The Best Folk Albums of 2015.
In December 2016, to mark the season, Fire and Wine was played on three BBC radio stations - The Folk Show with Mark Radcliffe, Genevieve Tudor's Sunday Folk and Johnny Coppin's Acoustic Show. Also in December, the duo, O'Hooley and Tidow included a cover version of Fire and Wine in their WinterFolk tour of the UK.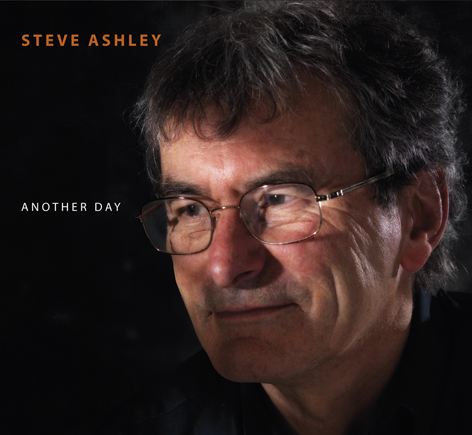 IN JANUARY 2017 STEVE RELEASED HIS ELEVENTH SOLO ALBUM, ANOTHER DAY on Market Square. Like its predessesor it features just Steve performing solo with no added session musicians. The album - his tenth collection of original songs - contains 14 Ashley originals and was recorded in Steve's home by Martin Mitchell during the summer of 2016. In December, prior to the album's release, the title track was chosen as Song of The Day by Folk Radio. A video was also created for this track by the Public Reading Rooms website. In the new year, the album was well-received in the media, garnering three five-star reviews. Then in May Steve was invited to do a live session and interview with Mark Radcliffe for BBC Radio Two's The Folk Show with Mark Radcliffe. For this show Steve recorded three songs live: People In Love, The Months Go Round and Best Wishes.

In October, Topic Records - in celebration of the label's 75-year-history - included Ships of Shame in their 2CD release, Topic Records: The Real Sound of Folk Music. Then the following month O'Hooley & Tidow opened their new album, WinterFolk Volume 1 with Fire and Wine. And in December, Ralph McTell and Wizz Jones closed their album About Time Too with Best Wishes while Steve's live version of the song was selected again for the Mark Radcliffe's Folk Show special, The Best of The Sessions 2017.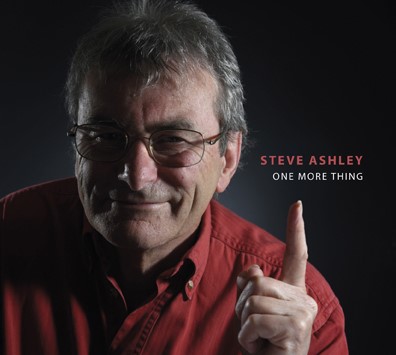 SEPTEMBER 2018 SAW THE RELEASE OF STEVE'S FINAL ALBUM, ONE MORE THING. It marks the conclusion of a 50-year recording career which began with Tinderbox in Sound Techniques in 1968 with a single for Polydor, and a solo recording career which started in 1971 with sesions for Stroll On at Olympic Sound Studios. Following the style set by his previous two albums, One More Thing is another stripped-back solo album for Market Square with 12 original tracks recorded by Martin Mitchell. Photography is by Rob Lacey and design by Mike Weaver. "I'm very happy with the outcome," said Steve, "...and it feels like the right time for me to stroll off. But I will continue with live gigs".
The album was included in the best albums of 2018 in USA's Goldmine and warmly received in folk related media, with three five star reviews in The Morning Star, R2 and Folk Wales, while fROOTS declared 'This is masterly British songwriting with all the bite of challenge' and in the April issue of Uncut Steve was described as 'the Phil Ochs of the Momentum age'.
Earlier in the year, Steve's recording of Follow On was included in WHEN THE DAY IS DONE - The Orchestrations of Robert Kirby on the Ace Records compilation. Then the folk group Narthen (Coope, Simpson, Freya and Fraser) recorded Steve's Once In A While While. News also came that Dobe Newton's version of Steve's Henry Lawson setting, Past Carin' is to be featured in the Australian feature film, "Acute Misfortune".


IN JULY 2021 Talking Elephant released STEVE ASHLEY'S FAMILY ALBUM REVISITED a reissue with extra tracks of the album first released by Woodworm Records in 1982. One song, Somewhere In A Song was reinstated from the original sessions and For Bruce, which Steve released on his album Another Day in 2017 was also included in recognition of the late Bruce Rowland's involvement in the production of the album. The booklet included recollections of the sessions from Steve, Dave Pegg and Chris Leslie. Then, nearly a year later, in May, 2022 The Scotsman published a chart of 10 important album reissues, and placed Steve Ashley's The Family Album Revisited at the top of the chart.