Reviews - 'Everyday Lives'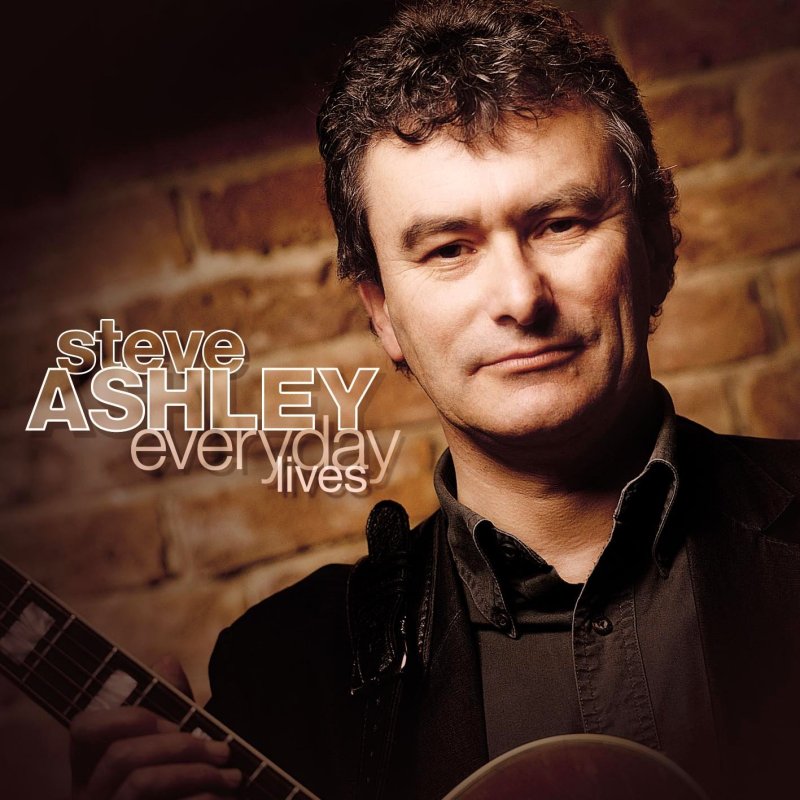 Everyday Lives TOPIC RECORDS TSCD526
1 Everyday Lives 2 Catch Him If You Can 3 Dance With You 4 By The Light Of The Moon 5 Say Goodbye 6 Down Among The Hop Poles 7 Wintertime Has Turned To Spring 8 And I Always Will 9 I Love The Way You Sing 10 Pity The Counsellor 11 We'll Survive 12 Gog And Magog 13 The Spoils Of War 14 Over There In Paradise
Steve Ashley - vocals, guitar, electric bouzouki, mouthorgan, whistle, Dik Cadbury - bass guitar, electric guitar, programming, Gerry Conway - tabla, Moroccan drums, bells, Mick Dolan - electric guitar, Al Fenn - acoustic guitar, Chris Leslie - fiddles, mandolins, Simon Nicol - electric guitar, Dave Pegg - bass guitar, Danny Thompson - double bass, Robin Williamson - harp, Lawrence Wright - melodeon
PRODUCED BY STEVE ASHLEY AND MARTIN MITCHELL. All songs by Steve Ashley Published by Topic Records Ltd. 2001.
---
"Ashley has clearly relished this opportunity to deliver at last, the follow-up that Stroll On always demanded ... Welcome back" MOJO - March
"If British singer songwriterdom is to enjoy a renaissance - and it's high time it did - then it's right and proper Steve Ashley should be at the forefront ... he seems to have lost none of his way with an alluring tune and a deft lyric."fROOTS May
"Just as his contemporary John Tams blind-sided fans last year, Ashley does the same here ...lovely ...comforting..." Q **** June
"This is praiseworthy modern folk music - accomplished, engaging and more rewarding every time it is played."GET RHYTHM May
"The music of Steve Ashley exerts an ever-growing appeal to those looking for a certain grace, texture and modesty in their music ... Once "Everyday Lives" is on the player, it's genuinely impossible to take off. FOLK ON TAP April-June
"It is reassuring to hear another side of England, one that we can be proud of for its humanity."REVOLUTIONS ONLINE March 17
"From the nostalgia of Down Among The Hop Poles to the social comment of Pity The Counsellor there's fascination aplenty in these new folk standards." HMV CHOICE April/May
"Steve Ashley marks return with album of quality"OXFORD HERALD, March
"Great songs, great singing and a great supporting cast." NETRHYTHMS ONLINE March
"The inspired 'Everyday Lives' is worth your serious and detailed attention."BE GLAD (ISB Fanzine), May
"... a uniquely intimate treat that once again presents him at his best ..." EXPOSE March 2003 (USA)
... Review Round-up ...
EVERYDAY LIVES
MOJO
The recent remastering of Ashley's seminal 1973 LP Stroll On alongside the career retrospective The Test of Time, has allowed an almost forgotten hero of British folk-rock first time around, to be appraised anew. Absent for years, Ashley has clearly relished this opportunity to deliver at last, the follow-up that Stroll On - a richly pastoral celebration of Englishness - always demanded. The first signs of that gauntlet being taken up is the guestlist, including four fifths of the current Fairport Convention, double bass star Danny Thompson and Robin Williamson on harp. Ashley's trademark lyrical preoccupation with the seasons provides another link with the '70s, with Gog And Magog an unrecorded gem from those days. But the immediate classic is Say Goodbye, a quasi-mystical lament for the tradition of English apple growing. Welcome back. Colin Harper, MOJO, March 2001.
fROOTS
If British singer songwriterdom is to enjoy a renaissance - and it's high time it did - then it's right and proper Steve Ashley should be at the forefront. Due to the vagaries of an industry too spaced out to notice, Ashley never did receive due accreditation for his status when he was a young lion of the scene, but nearly three decades on he seems to have lost none of his way with an alluring tune and a deft lyric.
Following last year's The Test Of Time compilation and the enhanced reissue of his landmark '73 album Stroll On, this is his first fresh studio album for over 20 years and Gog and Magog, his song of the giants of myth and legend, has taken that long to form into a recordable state. Gone is the frentic bounce of Stroll On and the instrumental joie de vivre which decorated his band Ragged Robin, but he's acquired a distinctively English style which draws pleasantly on traditional imagery and gentle humour on songs like Down Among The Hop Poles and Dance With You.
He's backed by the likes of Simon Nicol, Dik Cadbury, Al Fenn, Chris Leslie, Dave Pegg, Robin Williamson, Danny Thompson and Gerry Conway, although this is an essentially low-key production which even features an unaccompanied effort Wintertime Has Turned To Spring, to emphasise a feel of rural Englishness permeating the whole. More rocking cradles than rock 'n' roll, but a warm reassuring voice and diffidently persuasive songs are Ashley's trademarks that are still instantly recognisable. And there's precious few you can say that about now. Colin Irwin, fROOTS, May 2001
Q
Founder member of the Albion Country Band ends nine year silence.
This is the latest instalment in an on-off career which has seen Steve Ashley feted by folkies, then briefly by Motown and - those were the days! - even record a single with CND's Monsignor Bruce Kent. Just as his contemporary John Tams blind-sided fans last year, Ashley does the same here, marshalling assorted members of Fairport Convention (especially Chris Leslie) Danny Thompson and, most tellingly The Incredible String Band's Robin Williamson on the album's stand-out song of good and evil, Gog & Magog. Elsewhere, seasons turn tunefully, dances are danced (notably Down Among The hop Poles) there's a literal kitchen-sink blues in I love The Way You Sing, melodic balladry (Dance With You and its lovely, inspired chorus) and a comforting, singalong finale, Over There In Paradise. **** Rob Beattie, Q, June 2001
GET RHYTHM
My first review for GR and I don't like it, not a good omen for my quest to find great new music without maxxing out on the credit card again. Admittedly 'Everyday Lives' is well made and completely inoffensive, it just doesn't hit the spot.
So why do I keep putting it on? Because this delicately enchanting album of understated folk music is a 'grower'. Not initially impressive, Ashley's well constructed tracks draw one gradually into a tapestry-like world of warm and subtle sounds.
Ashley's voice is a little unusual and takes a while to get used to; it possesses a rich tonal quality that is difficult to describe. Almost strained whilst simultaneously verging on being complacent, suffice to say it compliments the music. Overall 'Everyday Lives' has an enormous sense of well-being more akin to yoga than musicianship. There's not a lot more to say. This is praiseworthy modern folk music - accomplished, engaging and more rewarding everytime it is played. Zeb Shaw, Get Rhythm, May 2001
www.revolutionsuk.com
As this veteran of the Albion Band and more writes on the sleeve, this is a collection of English songs by Steve Ashley. As one who was brought up in England until 18 but who first discovered folk in Ireland and Scotland, I missed out on the English folk scene until very recently. Ashley's fine album makes me regret that very deeply, but thankfully it's not too late. Beginning with a title track as brief as it is thoughtful and acute, he sets the tone instantly, and the following number - Catch Him If You Can - shows his warm wit and an observant eye in sharply phrased lyrics "Old specs hang from her neck/ On one of those chains that losers use". The instrumentation is sparse but wonderfully effective, with Ashley's guitar and Danny Thompson's double bass playing a simple tune over Gerry Conway's tabla and a lovely cameo from Chris Leslie's fiddle. By The Light Of The Moon is a poetic, suitably graceful homage to his cat, while by contrast, Down Among The Hop Poles is a nostalgic, joyous celebration of singing, beer and camaraderie. Wintertime Has Turned To Spring tackles what must be one of the most enduring themes of music - and roots of religious belief - from pre-historic times onwards, and the theme of rebirth has rarely been put with such delicate beauty (on another tack "the small birds on the wing" reminds me of one of my favourite poems, Spike Milligan's Spring Has Sprung). The Spoils Of War counts the cost of conflicts, even those long but not forgotten, on people and the land alike, with moving imagery set to a gentle melody. Equally moving but in a much happier way is perhaps my favourite track on the album, I Love The Way You Sing. It captures the way in which it is the simple things that can enchant us about a lover. Ashley on vocals, guitar and mouthorgan and Chris Leslie on mandolin and fiddle, lay down a loving bed of sound on which to lie an already warm lyric. As William Hague tries to create a bigoted, xenophobic vision of England (at least John Major's vision of the country was an inclusive One-Nation vision) it is encouraging to hear another side of England, one that we can be proud of for its humanity. (DM)
FOLK ON TAP
What is Folk Music? Why does that question have to be asked? Part of the reason why it is felt necessary is because of the commercial pop song. We recognise that there is a distinction which separates the pop songs from the folky songs. The path from folk to pop can be a very tricky one. Get it right, commercially - like the Corrs - and the folk suddenly seems to be playing second fiddle to your eyeliner. Get it wrong, and you risk alienating your core audience, who may shout "Judas!" at you. Of course all folk records are commercial in that the artist wants as many people to hear them as possible. It's not an elitist thing, but a recognition of the importance that everyday life is celebrated and discussed in song. It may seem obvious that songs are about everyday lives, but it's often overlooked and taken for granted. The folk-scene and the folk-song writer are carrying on that tradition.
For the best part of some thirty years, Steve Ashley has been recognised as being at the pinnacle of English song writing. True, he dips in and out of our folk world at irregular intervals, but each successive release remains a benchmark. Not for him, the Paul Simon personal poetry that isn't easy for people to fathom. Steve writes songs about everyday lives and within them we can recognise our humanity. Like every relationship, to fully appreciate this, you have to live with his songs for a while. Slowly you realise that songs such as Say Goodbye, which at first appears be about an orchard, is also a metaphor for the way people live their lives, the jobs they do, the way that the world is changing and life styles are being marginalised, then things fall into place.
It's Steve's wordplay that elevates Everyday Lives onto another artistic plateau. Dance With You raises a smile in that it perfectly expresses the frustrations felt by ceilidh dancers who begrudge sharing their partner when they "Only want to dance with you". It contains the delightful couplet "You know I hate these ceilidhs/and the stuff they do/Stuff all that do si do/let's have some doo be doo." That's certainly a sentiment which I've shared! Down Among The Hop Poles is a travelogue down Steve's personal memory lane with references to his friend, the great Peter Bellamy, and to his lost youth. To Steve's credit it's neither morbid nor melancholy, especially with the lovely reference to "clean as a new Cortina". Like a much loved old family photograph, "They're still in tune and still in rhyme/And when I sing that Fire and Wine/It all comes back so clearly" reminds us that memories do not fade with age, they grow more vivid. It's fitting that his paean to that much-abused and under-valued Counselling occupation, should be an acoustic blue and having witnessed the positive audience reaction to Pity the Counsellor during a recent gig, attests to Steve's razor-sharp observations on life. There's no doubt in my mind that Gog and Magog will become a classic song to rank alongside the aforementioned 'Fire And Wine'. It's a perfect example of the wonderful lyrical imagery which permeates every song in this collection.
Now, I'm going to say something that I hope Steve the lyricist won't take exception to - his melodies are so irritatingly catchy. Nowhere more so than on the beautifully sung unaccompanied ballad, Wintertime Has Turned To Spring. Once Everyday Lives is on the player, it's genuinely impossible to take off.
It may have taken some ten years for this record to finally arrive, but the over-long gestation has been well worth the wait. Although I've valiantly tried, it's genuinely impossible to select individual highlights as all provide marvellous atmospheric moments. The music of Steve Ashley exerts an ever-growing appeal to those looking for a certain grace, texture and modesty in their music. We've always come to expect a rich production from Steve and this is album no exception to that rule, so it's hats off to Martin Mitchell for his beautifully warm production that retains both the delicacy and bite of the acoustic instruments. He also ensures that Steve's voice (and lyrics) are not swamped by musically over-egging the pudding.
All of which makes the prospect of seeing Steve Ashley on stage with a band at this year's Cropredy Festival, essential! Geoff Wall, FOLK ON TAP April 2001.
HMV CHOICE
An attic studio in Cheltenham saw members of Fairport Convention, Incredible String band, Decameron and Pentangle come together to back Steve Ashley on what he calls "songs of everyday life and love in the country of my birth". From the nostalgia of Down Among The Hop Poles to the social comment of "Pity The Counsellor", there's fascination aplenty in these new folk standards. Pass the loft ladder. MDH
OXFORD HERALD
Steve Ashley marks return with album of quality
Steve Ashley is yet another folk singer to return to the scene with the release of his first album in almost a decade. Those of you who were at last year's Cropredy Festival will recall seeing Steve come on as Fairport Convention's guest on the Saturday night to sing one of his well known songs, Fire and Wine, from his successful album Stroll On.
Steve made a name for himself as one of the leading lights of the folk-rock era in the seventies. He helped found the Albion Country Band, worked with Fairport Convention, as well as having his own bands. He even made his mark in the US with two albums released on that most unlikely of labels, Motown.
His writing style can be compared with the best - John Tams and Steve Tilston come to mind - and a compilation of his work, The Test of Time (Market Square), was released in 1999 to remind everyone of that talent. Now Topic have issued Everyday lives, 14 new songs recorded with many old friends - Dave Pegg, Gerry Conway, Simon Nicol, Danny Thompson, Robin Williamson, plus Fairporter Chris Leslie, Dik Cadbury and Al Fenn, who were members of the original Steve Ashley Band.
Everyday Lives is a very reflective, almost elegaic album, looking back on a time brimming with optimism. In Down Among The Hop Poles he sings: "I wish those times would come again ... And when I sing that Fire And Wine, it all comes back so clearly." And We'll survive sums up his views on the dark days of the 1980s - "But we'll survive, we'll survive, we'll find another way to organise."
His fans will rush out to buy this album, but hopefully, a new legion will be drawn to a singer whose songwriting abilities remain undiminished. Peter Cann, Oxford Herald, March 2001.
www.netrhythms.co.uk
Completing a recent comeback - starting with the retrospective Test of Time and continuing with an excellent reissue of the classic Stroll On and a guest spot at Fairport Convention's Cropredy Festival - this is Steve's first new album in over ten years. Ashley's recorded output has always been sporadic but the long gestation periods have always meant that the quality of the songs is consistently high. Everyday Lives underlines this point perfectly and brings together fourteen excellent songs which look at the many aspects of everyday life and love.
I've been looking forward to this release for a long time, a taster appeared on Test of Time in the Autumn of 1998 and the quality was so immediately apparent that the anticipation level was high right from the start. I'm pleased to say that it is every bit as good as I was expecting. Great songs, great singing and a great supporting cast (including Chris Leslie, Danny Thompson, Robin Williamson, Simon Nicol, Dave Pegg and Gerry Conway, alongside long-time collaborators Dik Cadbury, Mick Dolan, Al Fenn and Lawrence Wright). It is however the trio of Leslie, Fenn and Thompson who give the album much of it's instrumental texture. Leslie's fiddle and mandolin colour many of the songs, Fenn's lead acoustic guitar comes to the fore on several, while Thompson's inventive double bass work weaves the whole tapestry together. Ashley's vocals are as strong as ever - as true a voice as you'll hear, but his instrumental ability is also evident - a wonderfully rhythmic guitar technique, always underpinning the lyrics, sometimes drifting into the lead; an ensemble of electric bouzoukis; and his trademark mouth organs and whistles.
The general theme is everyday life and all that goes with it (like much of Steve's previous work) and the folk tradition echoes throughout the album. Topics range from the village Ceilidh, the changing seasons and the various faces of love, as well as the passing of traditional English apple orchards and the perennial survival of folk songs. Among the immediate favourites are Say Goodbye, Down Among the Hop Poles and Gog and Magog but new songs come to the top of the list with every listen. The album closes with one of Steve's finest songs to date - Over There in Paradise. Dedicated to departed friends Peter Bellamy, Trevor Lucas and Royston Wood, it is a touching, beautiful and yet thought-provoking song.
All in all, this is probably Steve's finest album since Stroll On in terms of consistently good songs. It's a long time since I've heard an album and been so hard-pressed to pick out highlights (without resorting to quoting the entire track-listing) and that can only be a testament to the rare quality of Everyday Lives. It's been a long time in coming but, believe me, it's been more than worth the wait. Alex Lyons, www.netrhythms.co.uk, March 2001
BE GLAD
Back in the wildly unpredictable 70s, everywhere you turned there were singer-songwriters (some unbelievably bad), so sheer weight of numbers meant that not all could achieve an appropriate measure of appreciative recognition. In Steve's case, although his talent was feted fairly widely around mid-decade, he later spent quite a time without a record deal. Even diehard String devotees might not recall Steve's name buried in the chorus credits for Shirley & Dolly Collins' 1969 album 'Anthems In Eden' (which happened to include what was until the release of 'Chelsea Sessions' the only available recording of that 'lost' Williamson song 'God Dog'). Steve went on to build up a healthy folk-rock pedigree, first as a founder member of Ashley Hutchings' influential Albion Country Band and then with his own band Ragged Robin (which among other things backed Anne Briggs). He went solo (ostensibly, albeit backed by the Fairport Nine band) for the rightly acclaimed 'Stroll On' album (1974), which convincingly demonstrated his credentials within the context of the still-evolving folk-rock scene ('Fire And Wine' still raises the hairs on the back of the neck). There was a follow-up album 'Speedy Return', then the inevitable years of hectic touring in the manner of the times, but despite continuing to write prolifically it was not until 1982 that Steve was able to release the fine 'Family Album', a concept work in all but title. Thereafter, though given moral and practical support from the Fairport/Woodworm crowd, Steve struggled through the 80s, producing two 'Demo Tapes' for the peace movement and another album 'Mysterious Ways' before calling it a day in 1992 and taking a break from music. The release of a retrospective compilation 'The Test Of Time', then an expanded CD reissue of 'Stroll On', by the Market Square label back in 1999, together with a well-received cameo appearance with Fairport at that year's Cropredy, seems to have acted as catalyst for Steve to get a new album together. And pretty excellent it is too; sadly I don't have space for a track-by-track breakdown, however ...
Before you're driven to despair by the relative tenuousness of the String connection so far (after all, Steve didn't even sing on God Dog!) - and there's an even more tenuous thread in that Steve's producer for 'Stroll On', Austin John Marshall, was avowedly an ISB fan too - note that Steve himself explained (in the compilation's liner notes) that his early songs had reflected "two strong influences - the style and strength of composition which I found in traditional English songs and the freedom of expression which I heard in the early albums of the Incredible String Band" . The circle is indeed unbroken, for on his new album Steve has enlisted Robin to play harp on one track (the episodic 'Gog And Magog'). Sure, he's also brought in Simon Nicol, Danny Thompson, Chris Leslie, Dave Pegg and Gerry Conway (among others), but not to generate a full-steam-ahead folk-and-roll sound. Instead the impact is more folk than rock, with a wonderfully light touch, the musicians carefully selected on each individual track to provide a gently complex backdrop for Steve's thoughtful songs; these confirm his status as an acutely observant (albeit oft deceptively laid-back) commentator on English life, in which respect some critics (justifiably) view Steve's songwriting as on a par with that of Richard Thompson and John Tams. Like these songwriters, Steve uses his hard-won freedom of expression to present a distinctive and not always comfortable view of English life that doesn't shy away from political comment yet steers clear of empty polemic. An integral and recurring element in Steve's worldview is his ritualistic interpretation of the changing seasons, whereby love, death and resurrection form part of a larger pattern. Steve expresses this through his mature and canny cognisance of English tradition in the widest sense, allied to a true respect for traditional values. Having said that, there's also a distinctly childlike playfulness in the way he knowingly introduces and manipulates familiar references and peoples his creations with characters from myth and song; the method is simultaneously obvious and oblique, yet the result is delightful and irresistible. 'Down Among The Hop Poles', in transcending affectionate nostalgia (and, like 'Over There In Paradise', paying tribute to Peter Bellamy), manages to be both moving and uplifting. Steve's vocal style is most attractive too, embodying an appealing fragility in its gently telling delivery; for example, 'Dance With You' has an almost tearful tenderness offsetting the frustration and depth of feeling in the words. Occasionally I hear uncanny shades of Bert Jansch in Steve's vocal phrasing (perhaps most evident on 'Catch Him If You Can', but it's impossible to mistake Steve's singing for anyone else and, as I've already hinted, his songs have a combination of forthrightness and delicacy that's highly individual. We should indeed be grateful that Steve has survived, and the inspired 'Everyday Lives' is worth your serious and detailed attention. BE GLAD (Incredible String Band Magazine), David Kidman May 2001
EXPOSE
Ashley isn't prolific and he may not have lived up to the potential displayed on his debut Stroll On. However, Everyday Lives is a uniquely intimate treat that once again presents him at his best: an incomparable and unmistakably English voice weaving beautifully poetic tales of everyday lives from his homeland. The majority of the instruments are acoustic, featuring guitars, fiddle, harmonica, melodeon, double bass, and also drums and electric guitar. Familar names appear of course like Simon Nicol, Chris Leslie, Danny Thompson and Dave Pegg. He writes: "Most of the recordings were made in the loft of Martin Mitchell's house in Cheltenham ... all the instruments were carried up the narrow stairs and squeezed into the tiny studio space above." No doubt this cozy setting was an inspiration which enhanced the performances. Part of the beauty is this could have been recorded in 2000 or 1970. He notes that the songs have come from a long period of reflection, and this comes through both in familiar and metaphorical references. You'll certainly want to follow along with the lyrics as his voice and words make a rare connection to the heart. Within the endearing minutiae of their everyday lives we can sense the tumultuous history of this tiny island country, and perhaps learn the lessons of people who've lived through the perils and parallels and learn their simple wisdom: "And war will come from war/and grant no release/ Till every heart implores/ peace comes from peace" - EXPOSE (US Alternative Rock Magazine), Mike Grimes March 2003